What's New!:
January 19, 2008: John passed on this morning in San Diego in the city where he was born. We've lost the song poet of our generation and he's left us much too soon. John had been re-energized of late, recording a new album last month and thinking about the next Fantasy Camp in August. He spent the week with Nick Reynolds and his wife listening to the recent concert releases, singing the old songs together and sharing many memories.
After a great evening Thursday he was suddenly stricken. His friends and family gathered quickly for support, but he left us all this morning. He's given us all a lifetime of music and although we will miss him terribly he will live on in all of us. Our thoughts are with his wife Buffy and his children and grandchildren who have just lost their hero.
A few years ago John wrote a most poignant song - and I hope John is still dreaming he will walk on the moon...
If I had all the time in the world
And I had all the world in my time
There are dreams that I'm keeping inside
Like verses that never would rhyme.
I still dream I'll make movies in Spain
And photograph dancers in flight.
Watching the clock running down
And I live in available light.
And I still dream I will walk on the moon
If the moon isn't holding me down.
Chasing the future through fields
With moonlight igniting the ground.
All the young girls are light years away
And they seem to be browsing through time.
But you know that not one can compare
With the heart of this true love of mine.
In the water of all of my tears
The reflections of beautiful times.
In my arms I am holding the wings
Of angels I'm hoping to find.
And I still dream I will walk on the moon
If the moon isn't holding me down.
Chasing the future through fields
With moonlight igniting the ground.
Friends, who were here, now are gone.
Oh, why does it happen so soon.
And, as they were closing their eyes,
Did they dream they would walk on the moon?
And I still dream I will walk on the moon
If the moon isn't holding me down.
Chasing the future through fields
With moonlight igniting the ground.
January 18, 2008: John was stricken by a serious stroke and has been hospitalized this morning in San Diego. Please keep John and his family in your thoughts at this difficult time. I will provide updates as I learn more. Any concert dates should be considered on hold for now.
January 15, 2008: Some nice background info and funny remembrances by George Yanok, an old buddy of John's, on the Once and Twice Upon a Time releases. You can read it on George's blog http://writir.blogspot.com/2007/10/once-upon-time.html
Worth a mention for the lonesome pickers out there is a nice compilation of tabs put together here http://www.earthriders.us/johnstewartsongdatabase.html
January 14, 2008: Long overdue for a bit of an update. Singer songwriter Bill Staines, an old favorite of mine, has covered John's "Cody" on his newest album "Old Dogs" on Red House Records released in late 2007.
Probably should mention that "Once Upon a Time" the Kingston Trio release has finally gotten a real CD release. Many butchered versions have appeared over the years but this release attempts to set it right. Also notable is a "new" Kingston Trio release from the same time and tour (1966 in Lake Tahoe) called "Twice Upon a Time". They should be available through your usual folk music sources like Rediscover. There have actually been a number of Kingston Trio concert releases this past year and we may see more in 2008.
In December John strapped on a Fender and went into the studio to cut a rock and roll album. Well, John has said "I wanna be Elvis" and I guess we'll see what comes out of the mix. Some notable sideman are working on the project. Some of the names I've heard include Russ Kunkel, Bryan Garofalo, Lindsey Buckingham and Henry Diltz on some of the tracks, along with Bob Hawkins, Dave Batti and John Hoke.
I've slowly been adding some of the recent archives of Bloodlines. Also new concert dates keep trickling in. I've got some of them on the tourdates page.
August 18, 2007: There has been no news this year on any album projects and things have been pretty quiet. There are a few shows coming up in coming months. John tours less now so please take advantage of opportunities in your area. Check the tourdates page.
John will be making a first appearance at a special venue in San Diego that I encourage you to try. They present the kinds of acts that Stewart fans love such as Tom Russell, Dave Alvin, Jimmy LaFave and Eliza Gilkyson. John will be appearing October 26th but you can get advance tickets now. AcousticMusicSanDiego.com, 4650 Mansfield Street, San Diego, CA 92116 (619) 303-8176
Trio Fantasy Camp 2007 is in progress right now with John Stewart and Nick Reynolds, with appearances by Bob Shane, legendary trio bass player Dean "mad dog" Reilly, and astronaut Scott Carpenter. Rumors abound that Travis Edmondson is also on hand as well as former Association and New Christy Minstrel man Larry Ramos. Keep your eyes on the stars.
January 21, 2007: A nice spring tour is shaping up including John's first trip to the Pacific Northwest in quite a few years Check the tourdates page.
Sept 22, 2006: I saw John and Buffy perform at the Palms on Sept 16th. For me it was a very refreshing return to seeing John live. I really enjoyed the show - John was in a rather talkative mood and told stories of early days, boy scout camp on Catalina Island where he composed the "Shrunken Head Boogie" at age 12 and became the hit of camp - he was the hit of camp in other ways too - hard head Stewart - a funny story that I hope John tells at the Grass Valley and other shows coming up. He talked of discovering folk music and "John and Monty" and first meeting the original Kingston Trio and writing for them - the forming of the Cumberland Three and going on tour for "Moishe", going to Greenwich Village and sitting next to Cisco Houston and other legends - it has been a long time since I heard such great stories from John.
The music was excellent - it seems to me like John looked in his closet, found an old coat and some old clothes that surprisingly fit him well or even better perhaps now. Songs I hadn't heard in a very long time were somehow made richer - "Road Away", "Hung on the Heart", "She Believes in Me" (one of those first two or three Stewart songs that hooked me for life) "Mazatlan" . I just really liked this show - seeing John in such good spirits and playing a variety of great stuff including Run The Ridges and my two favorites from the new album "Baby It's You" and one it took me a while to warm to, "Jasmine". John also wrote and debuted a new song; "Old Friends in the Morning" is the tentative title, which I'll call a fond look by John on his friends Tom Delisle, George Yanok and Henry Diltz.
Here are several photos from the show Palms 1 Palms 2 Palms 3
added numerous files to the The Archives of Bloodlines
Sept 16, 2006: A rare central California appearance for John in Santa Barbara has just been added to the tour schedule for October 28. also a show in Bakersfield on October 20. Check the tourdates page for details on September and October shows. John tours less these days so don't miss a chance at a show.
A cover of a John Stewart song. I always like finding those. But, not just any cover - an actual duet with John. Kate Wallace. Per Kate's website http://www.katewallace.com/ ( www.katewallace.com ) "Politics & Religion Brand new CD of 11 songs produced by Kate and David West featuring Kateís big-time favorite, John Stewart on his song, Spirit." If you go to CDbaby here: http://cdbaby.com/cd/katewallace4 you can even listen to a 2 minute clip of "Spirit"
And another! Folk-Rock duo "The Kennedys" have a new album out "Songs of the Open Road". Maura Kenndy fell in love upon first listen to the song "Jasmine" from John's new album "The Day the River sang" and has included this song on the Kennedys' new album. You can read all about it here: Songs of the Open Road
Sept 12, 2006: I've been remiss in not posting news so plan to bring things up to date in the following months. For starters, roots-rocker Dave Alvin pays homage to John with the lead off cut on his new album "West of the West". He covers "California Bloodlines" and recounts a childhood memory in the liner notes and says that the song more or less inspired his new album. Worth a listen.
June 6, 2006: John had knee surgery a few days ago and is expected to make a full recovery and resume touring later this month at McCabe's and in San Diego. A hoped for tour of the UK this year had to be postponed as John was having difficulty travelling.
The NPR-syndicated "World Cafe" radio program with David Dye broadcast and streamed its recent interview with John Stewart on Tuesday, May 30. The interview was interspersed with live songs taken from the April 14 "Live at Noon" broadcast of John's special free show at the Tin Angel in Philadelphia. The program can be accessed online under the date may 30th here: World Cafe with David Dye
April 2006: On Friday, April 7, John Stewart was the featured noontime guest on Boston's folk-oriented radio station, WUMB (one of America's two major all-folk radio station, along with NYC's WFUV). John was interviewed and played several songs "live" on the air.
John will perform a "Free at Noon" live concert at Philadelphia's Tin Angel venue at noon on Friday, April 14, to be broadcast and streamed live on WXPN, a major player in the non-commercial AAA universe. After the broadcast, John will tape an interview with David Dye, host of WXPN's daily "World CafĀE program, which is syndicated by NPR and is carried by about 165 stations nationally. The interview, with live songs from the "Free at Noon" show interspersed, should be broadcast about three or four weeks after the taping.
February 15, 2006: John will be featured on an internet radio station show. Visit www.Radiofreephoenix.com this Thursday Feb 16 @ 11:00am MST. Adjust to your own time zone. John will be joining Andy Olson for an interview and music from John's new cd "The Day the River Sang". They will also be replaying the interview on Sunday Feb. 19 at 5pm
January 31, 2006: Finally, in February, a new commercial release from John! Slated for an official release date of Feb 21, 2006, "The Day The River Sang" is being released on Appleseed Records. The advance praise for the release has been pretty amazing with most fans who have heard it calling it the best release since Punch the Big Guy in the late 80's. I have only heard part of it, and the part I heard was really good. John returns with a variety of songs, including the story songs that long time fans have really appreciated. The type of song that John has written in recent years has differed quite a bit from his earlier work. With only a slight tongue in my cheek, much of John's early work tended to revolve around an Americana landscape and if it didn't have a horse, the road, the wind, rain or a river in it you almost wondered if it was Stewart. More recent work has tended to be less "rural" and more of a, I'm not sure how to say it, observation of society and life. There has been a bit of this always, and certainly since "Gold", but it seemed to be more prevalent in later work, and John has also added the perspective of a man who has lived a life and is looking back reflectively on it. One thing about John's music is that it rarely sits still and is sure to surprise you. The songs on the disc are as follows: 1. Baby, It's You 2. Jasmine 3. East of Denver 4. The Day the River Sang 5. Run the Ridges 6. New Orleans 7. Golden Gate Fields 8. Amanda Won't Dance 9. Sister Mercy 10. Broken Roses 11. Naked Angel on a Star-Crossed Train 12. Midnight Train 13. Slider
January 10, 2006: The first few tour dates are on the tour dates page for 2006
January 3, 2006: 2005 proved to be a fairly quiet year for Stewart related stuff. Lingering effects from a concussion John had in 2004 caused some problems touring in 2005 and with some show performances. We will have to see how it goes for 2006.
Fans may have noted that John's "Daydream Believer" has gotten heavy play in an Ebay ad campaign. Everyone still thinks Neil Diamond (that one is I'm a Believer") or the Monkees (they had the hit but they didn't write it) wrote it, but we know who really did. Kind of fun to think one of Stewart's songs has become so widespread.
Now for the big news - a new Stewart album will be released in February on Appleseed records. The title is "The Day The River Sang" and advance word is that it is really good. I'll have more details including tracks up here soon.
January 1, 2005: Happy New Year to all from the Cellar. New tour dates have been added for this coming year - California, Arizona and the start of the East Coast tour. John and Buffy are doing well and spent the holidays with their family in Southern California. 2004 was a pretty dry year for Stewart music, but John has been at work writing many new songs and rumor has it they are very good.
Nov 22, 2004: John's Fall tour was curtailed a bit by a concussion he suffered late this summer. Repeated tests came back fine but a concussion can take some time to recover from. He is at work on one, possibly two new studio albums for next year - one of which is planned to include modern renditions of some of John's "lost songs" from the past that never made it to albums. The summer Fantasy Camp was reported to be yet another success, this time including a brief impromptu reunion of Stewart, Nick Reynolds and Bob Shane.
John's performance this year at Woodsongs has been archived at can be found at: http://www.woodsongs.com/showlist.asp His show is No. 301
Aug 9, 2004: John's 5th Annual Trio Fantasy Camp w/Nick Reynolds happens this week in Scottsdale, AZ. Here's the Info: Where: Scottsdale Plaza Resort Address: 7200 N. Scottsdale Road Scottsdale, Arizona 85253 Dates: Friday, Aug 13th & Saturday, Aug 14th Time: 7:30 PM Tix: $15 at door If you're a Trio Fan, it's a must. John brings together 20 "Campers" who play Trio songs for 3 days. It culminates in two evening concerts at the Scottsdale Plaza. On Friday, the Campers form their own trios and play Trio songs all night. On Saturday, they get to join John & Nick on stage to be the 3rd member of the "Trio." Each night there is 3 to 4 hours of non-stop music and fun...come join in
August 5, 2004: Sad news. Pat Horine died Wednesday night, August 4th. Pat, along with Jim Conner, joined together with Bob Shane to form "The New Kingston Trio" after John Stewart and Nick Reynolds left the Kingston Trio. Pat died from smoke inhalation following a fire in his kitchen in Lexington Kentucky. Pat was just 59. I had a chance to see the "New Kingston Trio" at a club in Marin County - not knowing of the new members I was totally perplexed that night thinking that I should be seeing THE Kingston Trio. Nevertheless, the group, one of several configurations of the Trio was very good and it is sad to know that Pat has gone.
After what seemed like a very long time, John has again been writing songs. Several have been performed at recent concerts. Perhaps the most amazing of the bunch is one called "Sister Mercy" Here's just a snip of the great lyrics from a recent performance: "She said nothing is forever So grab it while you can Find your dreams along the river As they move across the land Move across the land... And the summer in the badlands Was where I once ran wild She would take me to the river As a mother takes a child "'. Classic Stewart.
Here's a review from a recent show at the end of June in Minden Nevada, courtesy of Bonnie Ragains: It was a great show for me, as I had not seen him perform since the early 80's. He was my absolute favorite musician/songwriter when I was a teenager in the Phoenix area, where he performed regularly at the Celebrity Theatre. So, meeting him in Minden some thirty years later was a real thrill! I have not been following him closely for awhile, so a few of the songs were new to me. I was especially impressed by the tune "The Man Who Would be King". I think he may have been frustrated with the sound quality, as he had to repeatedly ask the sound guy to "turn up voice, turn up guitar", etc. The second set he really warmed up and seemed to be having a good time, cracking jokes, etc. It may have been a challenge to play to that crowd, as many of them seemed to be there for the picnic rather than the music (people on cell phones, rude people talking too loud, kids running & screaming). It was a free concert, so that attracts a different audience. We sat in the very front and tried to focus on the performance. "Baby it's You" was a fun tune, one I'd love to hear him do again with a piano and maybe drums. He did a new song (title escapes me) that my group really enjoyed, some lyrics in it about a dream that a friend had, where she put her hand into a rainbow and it burned. (?) Anyway, I'm ready for another concert, one in which the audience pays to listen to John, the 'music hero' of my youth. Sincerely, Bonnie
May 1, 2004: The show scheduled for tonight in Santa Cruz was cancelled due to lack of advance ticket sales. Don't let this happen in your town! A show for Sunday May 2 at the Rancho Nicassio in Marin County has been added. Keep up to date on the tourdates page. Reports from recent shows are that Hall of Fame and all time winningest female jockey Julie Krone, who is a big Stewart fan, has been joining John and Buffy on stage for some songs. Recent set lists sound like John, as usual, is always mixing it up. "He never plays a song the same way once."
April 27, 2004: I received a note from John's nephew and sadly must report that John's sister Liz Parsons passed away on April 17.
OK this is funny. We've all misheard lyrics from songs. Here's some from John's "Gold"
April 3, 2004: 80 candles are on the birthday cake for Doris Day today. A classy lady and a darn good singer and actress. Happy Birthday Doris.
March 20, 2004: Things have generally been quiet in Stewart-land but with Spring upon us I think an update is overdue. For many fans, one of the real highlights of recent weeks has been the release of "Signals Through The Glass" on CD. This was the last remaining album never released on CD, and Folk Era worked tirelessly with Capitol records to secure the best master recording to finally make this available. This was Stewart's first album after leaving the Kingston Trio and was as a duo with his future wife Buffy Ford. You can get it right now for $13 from Rediscover Music along with a number of other recent Stewart recordings.
A bunch of Spring and Summer tour dates are rolling out - keep up to date on the tourdates page
Dec 2, 2003: Uh oh. Small change to my note of Nov 21 about the Tanforan CD. The special home-burned tour CD that John prepared and sold on his Fall East Coast Tour included the 15 tracks as listed in my October 4 news item below. However, the "official" CD that can be ordered through Neon Dreams that features Tanforan and Art Faller's Land includes 8 additional live cuts. The tracks on the new Tanforan CD are: Tanforan, Art Faller's Land, July You're A Woman, Moonlight Dream, China Sky, Wind On The River, It Ain't The Gold, Renegade Rising, Dreamers On The Rise and One Eyed Joe.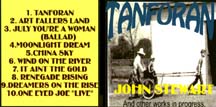 Nov 21, 2003: For those who would like a copy of the '03 East Coast tour CD, "Tanforan", you are in luck. The disc includes two "works in progress", the title song "Tanforan", inspired by Seabiscuit, and the cute little ditty "Art Faller's Land". The bonus, however, is thirteen live tracks taken from a great recent show. A mix of seldom heard songs, with John putting a different spin on some of these that is really nice. Highlights for me include a slowed down version of "Summer Child", and great versions of "China Sky", "Freeway Pleasure", and more, with a rousing closer "One Eyed Joe" which appears on the recent Havana release. You can get a copy of the CD from John's Neon Dream's label by sending $20, which includes postage, to: Paul Rybolt, 4981 Cornerstone Trail, Yellow Springs Ohio 45387
Oct 25, 2003: I have a large backlog of photos to add to the photo gallery. Here's a start: Rialto Theater June 2003 and Jimmy Duke's June 2003
Be sure to check the tourdates page for some upcoming gigs.
October 19, 2003: They do some strange things with banjos in Oregon. Check out this news story from CNN.
Rumor has it that the "Tanforan" CD that gathered so much praise amongst the few fans who got hold of the tour CD may yet see a wider release. Also being considered for release is a collection of songs that John has been performing in concert in a new style. "Macon Georgia 1945" is the working title.
Oct 4, 2003: John introduced several new songs on his recent East Coast Tour, among them "Tanforan" a song that John was inspired to write after seeing the movie "Seabiscuit" and a funny tune called "Art Faller's Land". Those who attended John's shows on the East Coast the past few weeks were also able to pick uo a special tour CD that John only sold on the tour. It is not otherwise available. The songs on the CD include the new "Tanforan" and reworkings of many classic Stewart tunes from a live show. The songs on the tour CD are: 1. Tanforan 2. Art Faller's Land 3. July You're a Woman (ballad) 4. Waltz of the Crazy Moon 5. Summer Child 6. Moonlight Dream 7. Freeway Pleasure 8. Wind on the River 9. Renegade Rising 10. Heart of a Kid 11. It Ain't the Gold 12. China Sky 13. Sweet Dreams Will Come 14. Dreamers on the Rise 15. One-Eyed Joe John is also doing parts of some sets in a new slowed down bluesy style that has been referred to as "Macon 1945" working songs around his old classic song "Summer Child".
Aug 23, 2003: I'm pleased to make available an mp3 file of John Stewart and Chris Whalen's "Dylan and Young do Vegas" comedy routine where John and Chris sing Moon River . My thanks to Bob S.
Aug 2, 2003: I received the sad news recently that John's former bass player, Chris "The Mountain" Whelan has passed away. Fans of "The Loudest Folk Band in America" will remember Chris playing bass in his big white "Hoss" hat in the late 70's and early 80's. He had a sweet voice and was a nice down to earth guy. One of my favorite memories of Chris was when he and John did a parody of Bob Dylan and Neil Young. John did Bob and Chris nailed Neil Young, and when he sang "Moon River" like he was Neil Young it would bust your gut. Farewell my "Huckleberry Friend". If anyone has some fond memories and photos of Chris that they would like to share please email them to me at REBeffa@aol.com as I'd like to put together a small page here in the Cellar in Chris's memory.
Another of John's former bass players, the great Arnie Moore is also recovering from recent neck surgery. He's doing well but I'm sure some kind thoughts would be appreciated. You can contact Arnie at Wyidelode@aol.com
Be sure to check the tourdates page for some upcoming gigs. East Coast tour dates being posted for the Fall.
If you couldn't guess, John Stewart is really taken with the recent "Seabiscuit" movie. I haven't heard a single person NOT like it yet. John writes: "I've seen Seabiscuit twice already and plan to go back many times. Seabiscuit had affected me a lot of ways. One I've always been in love with the legend of Seabiscuit since I can remember. All his great races happened around the time I was born. Being that my Father was a show and race horse trainer, I spent most of my weekends and all of my summers on the race track. Santa Anita, Bay Meadows, Tanforan, Del Mar and the Los Angeles County Fair Grounds in Pomona. I remember going to the track when I was five, that was 1944 and they were playing Glen Miller on the radio in the tack room. I can't remember the exact time line but everybody was talking about Seabiscuit for years to come. By the time I was seven or eight I was cleaning tack and helping muck stalls and wash down the harness with big soaked sponges in bigger tin buckets after the horses had worked in the morning. My Father trained Harness Horses so we had sulkies, harness and tack to deal with on what seemed like an hourly schedule. In my Father's row of about four stalls were his three horses and one he was training for someone else. I can't remember his name. He had two real grooms or as we were called "Gins" to take care everything in "Fort What, DE Hell" that my Father couldn't be bothered with. There was "Shorty" who was short, He looked like he could have been a jockey and maybe he was at one time. He walked like he'd been broken a few times. He didn't say much but he was really nice to me and showed me some good tricks with lathering tack so I would get yelled at by my Father, I was always being yelled at by my Father. Then there was Luther Chantell. Luther was a middle aged man, big in girth who stood about five eleven in worn through high top joddfers. Luther was always dressed in khaki, Khaki pants, khaki shirt, khaki braces that just barely held his pants up over his friendly pink beer gut that hung down out of his khaki pants, almost like an old stuffed bed you'd love just to crawl into. Luther knew my Father didn't like me, Luther knew my Father didn't really like anybody, so he went out of his way to give me a wink or tickle me around the waist when we were walking back to "Fort What, De Hell" from the Morning workout."
March 1, 2003: Added numerous files to the The Archives of Bloodlines
For a diversion have a go at the Kingston Crossword:
interactive and traditional you can print and The key if you're stuck
February 16, 2003: Stewart fans will be happy to know that the long awaited release of "Havana" is finally upon us. It is scheduled for release in late March but can be pre-ordered now for earlier shipping from Appleseed records. Click HERE for details about the recording. This is not a CD of the prior tour cassette, but rather a reworking and new production of the songs including the addition of "Lucky Old Sun" the old Ray Charles and Frankie Laine classic that sounds like it came from the pen of John himself. Those lucky few who have heard John perform this song live in the last couple years know that John has made this song his own. Equally exciting are the addition of three more tracks besides "Lucky Old Sun": JS originals "Star in the Black Sky Shining" (an in-concert favorite for several years), "Cowboy in the Distance," and "Waltz of the Crazy Moon".
January 21, 2003: I have moved the Song of the Day feature - it will no longer be a pop up but rather will appear here just above the news. Pop-ups were turned into annoying ads on many websites and many readers have turned off pop-ups in one way or another.
Nov 16, 2002: Sad news to report. On Wednesday Nov 13, John's brother Michael Stewart died at the age of 57. Although Michael had reportedly been ill for some time, his death was unexpected. A funeral and memorial service will be held at noon Monday (Nov 18) in Sacramento at the Chapel of the Chimes, 4701 Marysville Blvd.
Michael played with John for a time in the early 70's, appearing on "The Phoenix Concerts" album as well as producing John's own "Lonesome Picker Rides Again" album. Fans remember Michael sitting in with John for shows at The Troubador. Michael went on to greater production success producing Billy Joel's breakthrough album "Piano Man" and produced a number of albums and songs for other artists.
Michael's music career began much earlier however. In the early 60's he formed a group "The Ridegrunner's" with college friends. This group worked with John on performing and producing the soundtrack for a film for NASA called "With Their Eyes on the Stars". If you are lucky enough to track this down it is well worth a look and a listen. Later, moving to college at USF in San Francisco and adding vocalist Bev Bivens the group called themselves the "We Five" and had one of the top hits of 1965 with the California folk-pop anthem "You Were On My Mind". Other notable songs by the group included "Cast Your Fate To The Wind" and "Let's Get Together". After several albums with the We Five, Michael formed another group "West", based in the east bay town of Crockett. This folk-rock group had two albums, "West" and "Bridges" and a notable song from them was "Peaceful Times". Also, they also recorded several of brother John's songs, including "Looking Back Johanna" a Stewart classic. The two bridges across the Carquinez Straits between Crockett and my town of Vallejo appear on the cover of the "Bridges" album released in 1968. Several of Michael's songs were also recorded by the Kingston Trio, including "Tell It On The Mountain" on the "Something Special" album (1962), "Sing Out" on the "Sunny Side" album (1963), "These Seven Men" on "Time To Think" (1963), "Farewell Captain" from the "Back in Town" album (1964), and "If You See Me Go" for "Stay Awhile" in 1965.
After his music career Michael used his knowledge and went on to software design and engineering working for companies such as Adobe Systems in the late 90's to produce innovative creations that are in wide use in the music and software world.
I feel fortunate to have met Michael briefly several years ago after one of John's shows. It is an understatement to say that we are losing too many good people.
My heartfelt sympathies go out to Michael and John's families in this sad time.
An article about Michael can be found at WeFive.net
Oct 26, 2002: And now for something a little different ...
John Stewart Crosswords. #1:
interactive and traditional you can print and key if you're stuck
John Stewart Crossword #2:
interactive and traditional you can print and key if you're stuck The interactive versions include a cheat key. I'll have a Kingston Trio one shortly if you enjoy this
I'll put up details shortly about two new limited releases available from Stewart; CD versions of the Secret Tapes and a live concert recorded earlier this year in San Diego as well.
Sept 28, 2002: "Mother Outlaw's been giving me jaw, saying why don't you marry the girl?" Those words of course are from John's "All Time Woman" from the Cannons in the Rain album, a thinly disguised love song to Buffy, whom he would indeed marry a few years later.
With regret I must report that Mother Outlaw, Buffy's mom, Nanci Ford, passed away last week. This is a time of sadness for John and Buffy and their family and our hearts go out to them. But some of us like to remember the spirit that was Nanci Ford. She had come with John and Buffy to a number of their appearances in Northern California a few years ago. Friend Kate Snow recalls seeing a show Buffy performed at the West End in San Rafael. "A large part of that show was story after story about Buffy's crazy, wonderful family. At one point Buffy had to beg her mom to get up on stage with her to sing a song from their past, but once Nanci got up there, Buffy almost had to push her off the stage. She was a true character, in the very best sense of the word."
I remember with fondness a time Mother Outlaw was "giving me jaw" during intermission at a Palms show in the Spring of '96. My friend Catherine recalls: "Nanci used to come to most of the Sweetwater gigs. She was a character, full of life, always happy to chat with us. One night I remember her dancing and twirling and loudly singing "All Time Woman". This was not part of the show--just a little impromptu performance at break time. She pointed at herself and said "This song is about meeeeeeeee!" God rest her sweet soul. "
Tim Riley remembers: "I was lucky enough to meet Buffy's mom a few years ago at a show at the Sweetwater in Mill Valley. Before and after the show some of us joined in the conversation with Buffy, her brother and her mom. Her mother was a wonderful woman with a twinkle in her eye.
I'll finish with a remembrance from John and Buffy's close friend Tom DeLisle: "Those of you who get The Finger will recall Buffy's colorful recollections of her mother and her family while she was growing up; the Fords were quintessential California beatniks and free spirits back in the '50s, always on the move, residing in various places around California and Mexico. I think I recall Buffy saying that when Nanci would drop Buffy at school, she was apt to say "Here honey, in case you have to buy lunch" and give her a $100 bill. The Fords would hold crazy parties that would go on for days, and Nanci would make a bathtub of spaghetti to feed the transient mob. I met Nanci first in 1973, and she was always fun and outspoken and usually hilarious, sometimes even shocking but in a gentle way. One of the jobs she had in northern California in those days was catering a porn movie (!). She moved among the creative folks in NorCal, and lived in a really cool and big old turn-of-the-century home. She seemed the perfect hip California new age Mom and Grandma, and just about whom you'd expect would be Buffy's mother, a great and unique character who was the mother of a great and unique character. I last saw Nanci Ford at John and Buffy's house in Novato in 1996, and she was as fun and outrageous as usual. After a night's dining outdoors at a local Mexican restaurant, with the ensuing hilarity, we went back to J&B's and talked about ghosts and sex and ufos and the world until well past 2 a.m. (I can still hear Buffy laughing and saying "Mother!" when Nanci dropped something wild into the conversation.) My own mother was along on that trip, and she hit it off well with Nanci, and said of her when we left "Wow, she's really something." Those so inclined might say a prayer tonight for Nanci Ford, and for her family, Buffy and John and her two brothers Marc and Skif. Paul mentioned in his message that Buffy is, of course, having a rough time right now, and she certainly needs our support. She had suffered much along with her Mom in recent years, and this is a terrible blow for her. And we can thank Nanci Ford in our hearts and prayers for having brought such a special person as Buffy into the world and all our lives."
A 2 CD set release pulled from John's "Secret Tapes I and II" cassette releases of the late '80's is in the works. The cassette's were originally sort of official bootlegs of works in progress for John at the time. Some of the songs made it in to official releases but most did not. Many fan favorites such as "China Skies" reside only on these aging tapes. They are being remastered by John Hoke and will include some additional cuts from John not previously released. I'll let you know when the CD is available. Also still in the works is a remastered version and official release of "Havana" which has only had a short cassette release that was sold through shows and mail order a couple years ago. A number of great songs reside on that album including "Turn of The Century" and "Waiting For Castro to Die". There will be new songs.
Be sure to check the tourdates page for some upcoming gigs.
Sept 14, 2002: On August 10 John played his last show at the Palms. The old barn is being torn down for development, a terrible loss to the music community. However, Dave Fleming, manager of the Palms is opening a new Palms in nearby Winters. Here is a brief review of the show and over 30 photos I took from John's final performance there: http://www.clackscellar.com/Palms802.htm
Reports are that John's Fantasy Camp with Nick Reynolds was another success. Bob Shane showed up in the audience to watch, but no, he did not join John and Nick to perform any songs.
Rumor has it that John might get together for a gig and fun with Billy Edd Wheeler, the author of "Coal Tattoo" which the Kingston Trio performed and which John includes in recent concerts the last few years- powerful song that never fails to knock me out when John does it. Billy Edd is also the author of "Reverend Mr. Black" and "Desert Pete", among others. He has a new website: http://www.billyeddwheeler.com/
More of What's New from earlier months